Upcoming Events
Click on the photo below for tickets or more details
---
---
Click on the photo above for more details
Our Next Event

---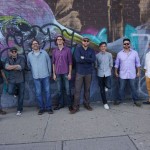 Original hard-driving, modern afro-beat and syncopated, horn-driven funk. That is the recipe that Polyrhythmics have crafted and delivered to packed clubs, and festival crowds up and down the west coast in the past 3 years. The 8 members of this dynamic world-beat orchestra, weave a clever web of deep, hypnotic grooves, creative, yet melodic interplay, clever horn-hooks, and searing solos that ignite every dance-floor that has laid before them
The palette for the hard-driving modern afro-psycho-beat sound is built around the relentless rhythm of Grant Schroff and Lalo Bello, the heart thumping bass lines of Jason Gray, the intricate phrasings of Ben Bloom's guitar, the searing avalanche of keyboard colors from Nathan Spicer and the melodic hooks and soaring solos from the horn section comprised of Scott Morning, Art Brown and Elijah Clark.
They will be joined by vocalist and trumpeter extraordinaire Lucky Brown. This is a HOT band with drums, congas, trumpet, trombone, sax, flute, and keys. Only 2 California appearances this tour, and we are one of them – DON'T miss them!
---
Buy tickets here or at Heart & Soul 42 Main St. (in the theatre building) PLEASE NOTE CASH OR CHECK ONLY AT HEART & SOUL – NO PLASTIC – ALSO NEW HOURS FOR HEART & SOUL – Sun-Tues 10-4; Wed-Sat 10-5.