Upcoming Events
Click on the photo below for tickets or more details
---
---
Click on the photo above for more details
Our Next Event

---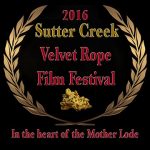 THINGS ARE MOVING QUICKLY HERE SO WE ARE NOT DOING AS MUCH ONLINE SALES, BUT WE HAVE AVAILABILITY FOR ALL SHOWS, JUST COME DOWN, ENJOY A GREAT EXPERIENCE, PERFECT WEATHER, LOTS OF FUN!
WE HAVE LINKS BELOW TO THE FESTIVAL SCHEDULE AND DESCRIPTIONS OF THE FILMS IN CHRON ORDER AND DESCRIPTIONS BY CATEGORY. We have tickets available – scroll to bottom of the page.
Sutter Creek's Velvet Rope Film Festival is an international film festival which garners high quality submissions worldwide. The festival will begin Friday September 30 and run through Sunday October 2, 2016.
The 2016 festival will feature 44 feature films, documentaries, shorts and animated projects from across the world, all shown at the historic Sutter Creek Theatre. Our mission is to create a world-class festival that celebrates the many forms of the film industry, by showcasing films that educate, enlighten, inform, and most of all, entertain.
The Sutter Creek Velvet Rope Film Festival will offer master class seminars and filmmaker panels where amateur and professional filmmakers can discuss and advance their skills in the art of filmmaking. There will also be musical entertainment in the park on all 3 days. We truly look forward to treating you to an event you won't soon forget!
CLICK HERE FOR A SCHEDULE OF THE ENTIRE FESTIVAL
film-schedule-table-revise
CLICK HERE FOR A SCHEDULE OF INDUSTRY PANELS
industry-panels-schedule
CLICK THE LINK FOR A LIST OF DESCRIPTIONS OF THE FILMS IN THE ORDER OF SHOWING FOR THE FESTIVAL:
film-descriptions-chronological-2
CLICK THE LINK FOR A LIST OF DESCRIPTIONS OF FLIMS BY CATEGORY:
film-descriptions-by-category-2
We have one day and all event (3 day) passes available below, as well as tickets for individual showings.
The schedule is in 2 hour blocks, individual tickets can be purchased for each block for $9 per block – so if there is one full length film in a 2 hour block, that block (1 film) is $9, if there are 3 short films in a 2 hour block, that block (3 films) is $9.
A One Day Pass is $45 – Allows the holder all access for the day. All Pass: $120 – Allows the holder all access for the entire festival, except Awards Show and Dinner and/or Private parties.
HERE ARE LINKS TO TRAILERS FOR MOST OF THE FILMS BELOW:
22 Years
---
Buy tickets here or at Heart & Soul 42 Main St. (in the theatre building) PLEASE NOTE CASH OR CHECK ONLY AT HEART & SOUL – NO PLASTIC – ALSO NEW HOURS FOR HEART & SOUL – Sun-Tues 10-4; Wed-Sat 10-5.