Upcoming Events
Click on the photo below for tickets or more details
---
---
Click on the photo above for more details
Our Next Event

---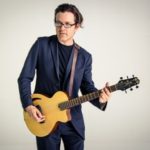 Country, rock, bluegrass – all blended into a unique version of Americana. Check out the variety in the videos below.
Starting his solo career in 2005; with the release of his first full length record "Grand Design," to present day, Nathan McEuen has written nearly 80 songs, produced five full length records, and has independently sold over 60,000 CDs. The past 10 years has been a non-stop musical adventure filled with over 2,000 live shows across the U.S.A., Canada & Europe with highlight performances including: The Grand Ole Opry (3 times), American Idol (w/ Steve Martin), The Tonight Show (w/ Hanna-McEuen), Music City Roots, XM/Sirius Radio, iTunes, Yahoo.com's Ram Country, Voice of America Radio, Woodsongs, The Stagecoach Festival and climbing to a #1 spot on Amazon.com's Americana chart with his collaborative effort "The McEuen Sessions."
Through the years he has had the good fortune to open for, perform or work with various artists such as: John Carter Cash, David Crosby, Graham Nash, Jim Messina, Dave Mason, Chris Hillman, Dwight Yoakam, Carrie Underwood, Brad Paisley, Lyle Lovett, Avett Brothers, Leon Russell, Steve Martin, John Oates, Vassar Clements, Kevin Nealon, Willie Nelson, John Denver, David Grisman, Bob Schneider, Sara Watkins, John Jorgenson, Brett Dennen, Crosby Loggins, Kenny Loggins, The Dillards, Hanna-McEuen, Riders in the Sky, Billy Bob Thornton, The Grascals, Van Dyke Parks, Jennifer Warnes, Laurie Lewis, Chelsea Williams, Jesse Siebenberg, Chris Caswell, and Mario Calire to name a few…
"I think it's wonderful… Great record; accomplished and emotional."
– Steve Martin (Writer, Comedian, Musician, Actor)
"Wow… I am just amazed! A perfect example of his talents."
– Jim Messina (Poco, Buffalo Springfield, Loggins & Messina)
"I love his music and I love this album!"
– Crystal Gayle (AMA/CMA & Grammy Award winning singer)
"What excellence… Positively blew me away! Great inspiration."
– Ken Hardley – Rolling Hills Radio (New York)
"Nathan McEuen's light is shining bright. A fine singer, guitarist and an excellent songwriter. There is hope on the horizon."
-Chris Hillman (The Byrds, The Flying Burrito Bros.)
"A shining example of the Americana genre."
-Chris Jay, VC Reporter (Ventura, CA)
"A thing of beauty for the whole musical family."
-David Wilde (Huffington Post/Rolling Stone)
"A fantastic listen. I really love this record (McEuen Sessions). I thoroughly recommend it to anybody."
-Malcom McDowell (Actor)
"Nathan McEuen is a genius." -Nathan McEuen
---
Buy tickets here or at Heart & Soul 42 Main St. (in the theatre building) PLEASE NOTE CASH OR CHECK ONLY AT HEART & SOUL – NO PLASTIC – ALSO NEW HOURS FOR HEART & SOUL – Sun-Tues 10-4; Wed-Sat 10-5.