"Winterdance" – A Celtic Christmas Celebration" presented by Molly's Revenge – with Celtic dancers!
December 7 @ 8:00 pm

-

10:00 pm

$10 – $27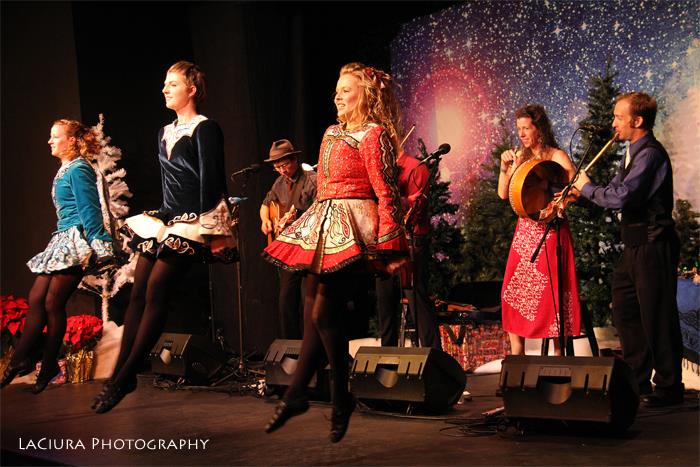 PLEASE NOTE THIS SHOW STARTS AT 8:00 PM. WE MOVED THE TIME BACK BECAUSE OF THE POSADAS PARADE THAT NIGHT. IT WILL BE OVER IN TIME TO PARK AND GET TO THE SHOW.
Dynamic. Acoustic. Celtic.
Join Molly's Revenge and special guest vocalist Amelia Hogan with the Murray Irish Dancers from Portland for an evening of music, song and dance associated with the festive season. The performance will include Christmas songs both old and new from many lands, all played with a Celtic twist. You'll have an opportunity to join in and sing some of your favorite carols, and our dancing guests will surely set your toes tapping.
Molly's Revenge, whose lineup includes bagpipes, fiddle, whistle, guitar, mandola, and bouzouki, have toured extensively in the USA and in Australia, China and Scotland. The band is known for its unique and infectious on-stage enthusiasm. The classic combination of bagpipes, whistle, fiddle, and song, with guitar, bouzouki, and mandola accompaniment, guarantees an enjoyable experience for all fans of Scottish and Irish music. Their arrangements of traditional jigs and reels bring these dance tunes up to date with a driving, hard- edged accent that always leaves audiences shouting for more.
Guest vocalist Amelia Hogan possesses a singular voice: warm, supple, expressive, and intimate.
"There is an engaging freshness and yet an impressive maturity in their playing. There is also a lovely balance of repertoire, alternating a familiar with a most arcane selection of tunes and songs." –Mick Moloney, National Heritage Award recipient.
"The instruments are traditional… but the wild passion they exhibit is thoroughly modern." –MetroSantaCruz (CA)
"Revered in California as one of its most energetic, exciting and innovative bands, Molly's Revenge has a produced an album that is a total joy." –Shay Black, of the legendary Black family.
"They bring to the music a vital and joyous creativity that excites even the hardest of hearts." –John Doyle, founding member of Solas.