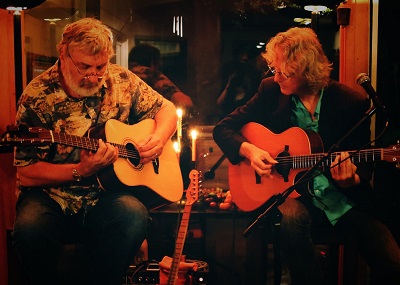 The Quitters is the dynamic guitar duo right-side up finger picking (Stevie Coyle) and upside down flat picking (Glenn Houston). Having each quit some of the best bands in the business, both are late founding members of The Waybacks. Stevie Coyle has a long and illustrious career as an entertainer that began well before birth and Glenn Houston's well decorated history in music is best known for his founding role of powerhouse Americana quintet, Houston Jones. As individuals, both are renowned players in music circles. Now they have joined forces, to the delight of California audiences, to become a right-handed, right-side up fingerpicking and left-handed upside down flatpicking twosome. Mostly acoustic. Some electric. Much serendipity.
Nina Gerber is amazing guitarist who is equally dazzling in a range of styles, folk, country, bluegrass, rock, and blues. She spent many years accompanying Kate Wolf and has accompanied many other artists, including Karla Bonoff, Peter Rowan, Laurie Lewis, and Lucy Kaplansky, to name a few.
Chris Webster has fronted Mumbo Gumbo as a singer/songwriter for many years, and is a soul singer beyond genre. In the course of recording over 20 albums on her own and with others, she has drawn equally from classic R&B thumpers and gospel-grass prayers, from rockabilly rave-ups and singer/songwriter confessions. Webster's work is rooted in the classic American tension between a yearning for transcendence and a lusty connection to the here-and-now.
Videos below are the Quitters for the first 2, then Nina and Chris in the last two.