Reverend Peyton's Big Damn Band – Country Blues
October 7 @ 7:00 pm

-

9:00 pm

$29 – $34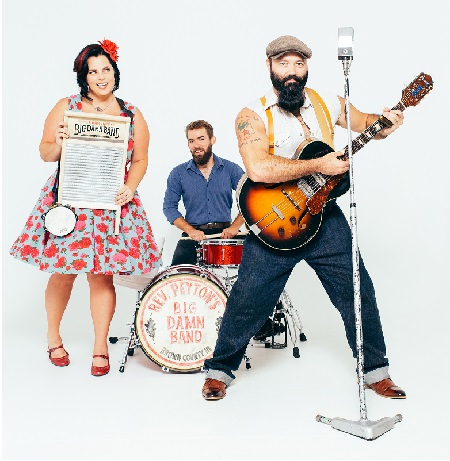 Doors 6:30, show 7 pm. Open seating, beer and wine available. $29 Advance / $34 Day of Show
"The country blues is a gift of 20th century American music, and it's awesome to see a band tap into its legacy with so much gusto and original vision." – Music City Roots
The greatest front-porch blues band in the world! The new album from Reverend Peyton's Big Damn Band was written by candlelight and then recorded using the best technology available in the 1950s. But listeners won't find another album as relevant, electrifying and timely as "Dance Songs for Hard Times."
The song "Too Cool to Dance" might be interpreted as the album's centerpiece for its message of not taking things for granted. The seize-the-moment anthem offers the chorus, "We may not get another chance. Oh, please don't tell me you're too cool to dance."
Peyton, the cover subject of Vintage Guitar magazine's January 2020 issue, showcases his remarkable picking techniques on "Too Cool to Dance." It's rare to hear a fingerstyle player attack Chuck Berry-inspired licks with index, middle and ring fingers while devoting his or her thumb to a bass line. Yet multi-tasking Peyton has made an art of giving the illusion he's being accompanied by a bass player, despite the Big Damn Band's roster featuring no one beyond himself, Breezy on washboard and Max Senteney on drums.
"Too Cool to Dance" heats up thanks to Peyton's 1954 Supro Dual Tone electric guitar. Once known exclusively for playing acoustic guitar in the tradition of Mississippi icons Charley Patton and Bukka White, Peyton's country blues seemingly have migrated north and plugged in with Chicago giants Howlin' Wolf and Muddy Waters.
"It's crazy," Peyton says of "Too Cool to Dance." "It almost feels like a song from the 1950s that's been lost. At the end of the day, it still somehow feels like us."
"The latest from Reverend Peyton's Big Damn Band…. is, in short, a revelation. An amazingly well crafted, controlled explosion of talent, the range and depth of the music performed by the trio is remarkable." – American Blues Scene
"… the reincarnated Mississippi moan of guys like Son House… a burly soul punishing the senses with a Deltapunk attack and a heavy helping of rural realism. You can't ignore his Big Damn Band's gospel." — Elmore
The award winning historic Sutter Creek Theatre is an intimate 215 seat former silent film theatre with superb sound. Voted Best Indie Theatre multiple times (KCRA A-List).