Peter Asher with Jeremy Clyde – British Invasion music and memories
November 16 @ 8:00 pm

-

10:00 pm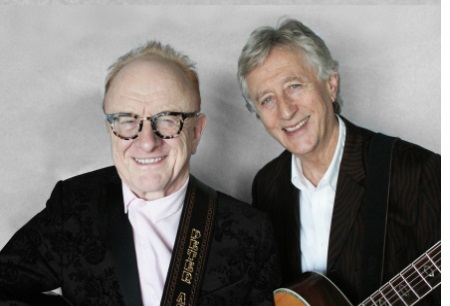 Doors 7:00 pm, show 8 pm. Open seating except for VIP, beer and wine available.

Tickets for General Admission and open seating are $50. A limited number of VIP premiere seating with Meet and Greet before the show with the artists are $130.

PLEASE NOTE TICKETING WILL BE THROUGH THIS LINK NOT OUR USUAL TICKETING PROCESS:
CLICK HERE FOR TICKETS FOR THIS SHOW
Peter Asher of Peter & Gordon joins forces with Jeremy Clyde of Chad & Jeremy to star together in an unforgettable evening of music and memories featuring songs and stories from their sixties heyday as recording artists to Jeremy's success on stage, television (Downton Abbey) and film (The Iron lady) and Peter's Grammy-Winning career as producer and manager of the likes of James Taylor, Linda Ronstadt and more.
Their respective British Invasion duos were collectively responsible for 30 Billboard chart hits. From the Chad & Jeremy catalog, they bring you "Distant Shores", "Yesterday's Gone" "Willow Weep For Me", "Before and After", "A Summer Song" and more. From the Peter & Gordon songbook comes "Woman", "I Go To Pieces", "I Don't Want To See You Again", "Lady Godiva", "A World Without Love" and more.
Steve Smith of the Los Angeles Daily news sums up the evening: "The duo oozed a refreshing abundance of natural English good humor and charm as they told tale after tale from their fabled careers…their voices blended seamlessly…(they) sound virtually identical even 50 years later."
Peter tells stories from his new book, The Beatles: From A to Zed, based on his SiriusXM radio show From Me To You, on the Beatles Channel; Jeremy regales with tales from Chad & Jeremy's appearances on Batman and the Dick Van Dyke Show, and gives us a taste of his new series of CDs, The Bottom Drawer Sessions. Don't miss this special opportunity to hear the stories behind the lives and music of these two legendary duos from the era that wiped clean and drew again the face of popular culture.
The award winning historic Sutter Creek Theatre is an intimate 215 seat former silent film theatre with superb sound. Voted Best Indie Theatre multiple times (KCRA A-LIST).