Lacy J Dalton with Dale Poune – Country's Queen
November 25 @ 7:00 pm

-

9:00 pm

$27 – $31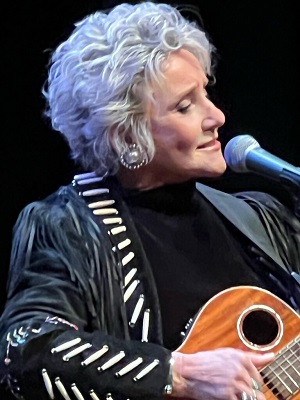 Doors 6:30 pm show at 7 pm. Open seating, beer and wine available. $27 Advance / $31 Day of Show
Lacy J. Dalton is a Grammy nominated singer/songwriter from Bloomsburg, Pennsylvania who was inducted into the North American Country Music Association International Hall of Fame in 2017. She's one of the most instantly recognizable voices in music – the woman People Magazine called "Country's Bonnie Raitt." She was awarded "Top New Female Vocalist of the Year" in 1979 by the Academy of Country Music, and quickly rose to national prominence with her hit single "Crazy Blue Eyes," a song that raced to #7 on the Billboard Country Charts. Lacy's collaboration with Willie Nelson on his Half Nelson CD was a high spot for her. Lacy was the only woman featured on that recording (which included singing legends Ray Charles, Neil Diamond, Merle Haggard, Julio Iglesias, George Jones, Leon Russell, Carlos Santana, Mel Tillis, Hank Williams Sr., and Neil Young), and was awarded a Platinum Record for it. She also received a Gold Record from Hank Williams Jr. in 1985 for her support performances throughout his Five-0 Tour. She quickly became one of the few women who could successfully share the stage with the likes of Hank Williams Jr., Willie Nelson, George Jones, Glen Campbell, Merle Haggard and Charlie Daniels. Her Hit records are legendary million-airplay cuts: "Hard Times," "Crazy Blue Eyes," "Hillbilly Girl with the Blues." "Takin' it Easy," "Everybody Makes Mistakes," the worldwide hit "Black Coffee," and her signature song "16th Avenue," the anthem for Nashville songwriters voted one of Country's Top 100 songs ever by Billboard Magazine.
Lacy's career includes accomplishments in music, film and radio. As an independent artist with her own label called Song Dog Records, Lacy has released three albums, "Wild Horse Crossing" in 1999, a tribute to Hank Williams Sr. entitled "Here's To Hank" in 2010, and her first Americana album "The Last Wild Place Anthology" in 2006. In 2019, that CD won the Pete Huttlinger Award for Music Excellence from boards of Strictly Country Magazine and the Spirit Awards. She recently recorded some electrifying new music for an EP that was released in January 2019. When hearing the signature song Scarecrow, her good friend Reverend Barbara Ann Fletcher remarked "that song makes you a whole new you, and it makes me a whole new me." That's exactly the response Lacy hoped for.
Dale Poune great supporting vocals and guitar and mandolin makes this a great duo show you won't want to miss!
The award winning historic Sutter Creek Theatre is an intimate 215 seat former silent film theatre with superb sound. Voted Best Indie Theatre multiple times (KCRA A-List).