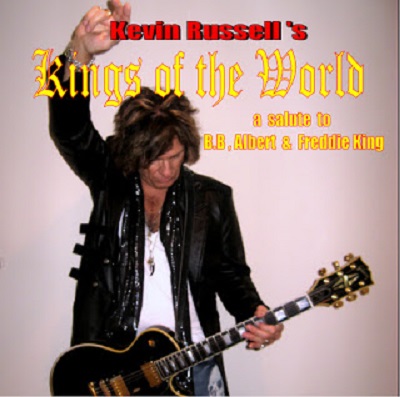 This will be a great blues show! We've seen Kevin Russell's phenomenal guitar playing and his great vocals before when he has performed here with the Unauthorized Rolling Stones and recently in Kevin Russell's "Cream of Clapton." Now he's back, paying tribute to his three favorite bluesmen – B.B. King, Freddy King, and Albert King!
Over the years, some of the people Russell has shared the stage with include Bruce Springsteen, Joe Walsh, Levon Helm, Jackson Browne, Vince Neil, Jon Bon Jovi, Richie Sambora, Robert Plant, Gregg Allman, Brian Setzer, Lee Rocker, Slim Jim Phantom, Earl Slick, Ted Nugent, The Grateful Dead and Clarence Clemons. Russell was Clemons' musical director for a couple of years.
Kevin and Clarence Clemons "The Big Man" became good pals in the Bay Area. They put a touring band named The Red Bank Rockers together and hit the road, playing to sold out crowds across the U.S. Their shows would often feature special guests such as Joe Walsh, Ringo, Bruce "The Boss", Jackson Brown, Jon Bon Jovi, Ritchie Sambora. etc. Kevin also put together "The Keep" with Kiss drummer and longtime pal Peter Criss.