Jeff "Skunk" Baxter – Founding member of Steely Dan and Doobie Brothers guitarist
July 30 @ 7:00 pm

-

9:00 pm

$38 – $44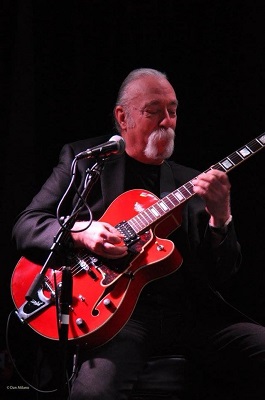 Doors at 6:30 show at 7 pm. Open seating, beer and wine available.
WOW! Rock and Roll Hall of Fame member AND member of two of my favorite bands! "Skunk" Baxter has had an amazing musical career and is releasing a new album in June this year!
Baxter joined his first band at age 11. In junior high school in Mexico City, Jeff formed a surf band that hit the top 10 on radio in Mexico. While still a high school student, he worked at Jimmy's Music Shop in Manhattan in 1965 and 1966. At Jimmy's, Baxter met guitarist Jimi James (later to become Jimi Hendrix), who was just beginning his career as a frontman, and provided him with his first custom left-handed Fender Stratocaster. Baxter and Hendrix went on to become good friends.
In 1972 he became a founding member of the band Steely Dan, along with guitarist Denny Dias, bassist Walter Becker, keyboardist-vocalist Donald Fagen, drummer/vocalist Jim Hodder and vocalist David Palmer. Baxter appeared with Steely Dan on their first three albums, Can't Buy a Thrill in 1972, Countdown to Ecstasy in 1973, and Pretzel Logic in 1974. He contributed the guitar fills and signature solo heard on the group's highest charting hit " Rikki Don't Lose That Number."
While finishing work on Pretzel Logic, Baxter became aware of Becker and Fagen's intentions to retire Steely Dan from touring and work almost exclusively with session players. With that in mind, Baxter left the band in 1974 to join The Doobie Brothers, who at the time were touring in support of their fourth album What Were Once Vices Are Now Habits. As a session man, he had contributed pedal steel guitar on Vices as well as "South City Midnight Lady" on its predecessor, The Captain and Me. Baxter's first album as a full member of the group was 1975's Stampede. He contributed an acoustic interlude ("Precis") and significant turns on slide and pedal steel guitar. Baxter suggested bringing in singer-keyboardist Michael McDonald, with whom Baxter had worked in Steely Dan. McDonald soon was invited to join the band full-time. McDonald's vocal and songwriting contributions, as well as Baxter's jazzier guitar style, marked a new direction for the band. They went on to continued success with the 1976 album Takin' It to the Streets, 1977's Livin' on the Fault Line, and particularly 1978's Minute by Minute, which spent five weeks as the #1 album in the U.S. and spawned several hit singles; Baxter's work on the album includes a performance at the end of "How Do the Fools Survive?".
Baxter has continued working as a session guitarist for a diverse group of artists, including Willy DeVille, Bryan Adams, Hoyt Axton, Eric Clapton, Sean O'Bryan Smith, Gene Clark, Sheryl Crow, Freddie Hubbard, Tim Weisberg, Joni Mitchell, Ricky Nelson, Dolly Parton, Carly Simon, Ringo Starr, Gene Simmons, Rod Stewart, Burton Cummings, Barbra Streisand, and Donna Summer. He has worked as a touring musician for Elton John and Linda Ronstadt.
Baxter continues to do studio work, most recently on tribute albums to Pink Floyd and Aerosmith. The latest phase of Skunk came with his long time collaboration with keyboardist and producer CJ Vanston. The two had worked together on composing and producing commercials for years and decided that it was time to turn their combined creative skills to a music project. Working in CJ's studio, a wide range of songs were written and recorded representing the diversity of genres of music for which Skunk is known. They then decided that adding vocals, both from Baxter and guest artists would provide even more depth to the project. Former Doobie Brother band mate, Michael McDonald agreed to join and co-write a new song. Baxter and Vanston also worked with Jonny Lang and Clint Black to create new material. Baxter rocked out on the version of My Old School that he had always wanted to do with Steely Dan and performed the vocals on the tune.
Baxter is excited to starting touring after the CD is released in June 2022.
The award winning historic Sutter Creek Theatre is an intimate 215 seat former silent film theatre with superb sound. Voted Best Indie Theatre multiple times (KCRA A-List).