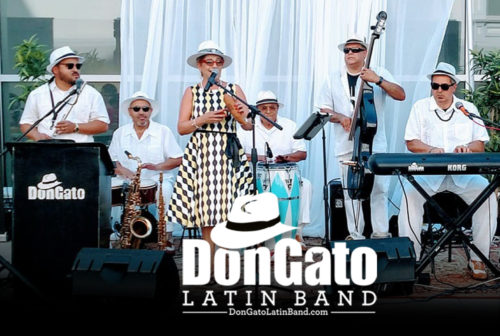 DonGato Latin Band is a group of seasoned musicians that loves the perfect combination of great music, great time and entertaining a exciting audience.
DGLB plays Smooth Latin Music blended with Latin Jazz, Cuban Son, Salsa and with a dash of a tropical feel. DGLB song list includes various tunes from the great Buena Vista Social Club songbook. DGLB also incorporates American standards classics in a latin beat format. Songs like, Besame Mucho, Sway, Perhaps, Perhaps. Perhaps, Imagine, Clocks, Hotel California, Ain't No Sunshine, Stand by Me, Feel Like Making Love, and many more. DGLB signature guayaveras (Cuban/Puerto Rican/Island shirts) and Panama hats are always the band's attire. This band has horns, congas, bongos, keyboards, and more – a whole lot going on!
Tickets $18 in advance available now. Day of show tickets $21 available day of show date if not sold out.