Chris Cain – Blues Guitar Master
October 14 @ 7:00 pm

-

9:00 pm

$30 – $35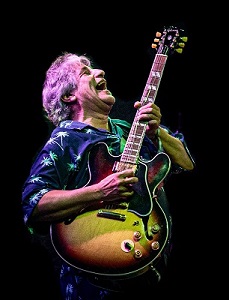 Doors 6:30, show 7 pm. Open seating, beer and wine available. $30 Advance / $35 Day of Show
"Hands down my favorite blues player on the scene today. He's an absolute blinder of a guitarist, with the voice of B.B. King and the chops of Albert King." –Joe Bonamassa
"Chris Cain? Now that boy can PLAY the guitar!" –B.B. King
"Chris Cain is a hot-shot guitarist and a singer with the maturity of blues masters like Bobby Bland and B.B. King." –The Washington Post
Among the greatest compliments a musician can receive is praise from his fellow artists. With more than three decades of touring and fourteen previous albums, master blues guitarist and vocalist Chris Cain has earned his reputation as a musician's musician. Since his first release in 1987, Cain has created his very own blues sound inspired by his heroes—B.B. King, Albert King, Ray Charles, Albert Collins, Grant Green and Wes Montgomery. His jazz-informed blues guitar playing is fiery, emotional and always unpredictable. His vocals—gruff, lived-in and powerful—add fuel to the fire. His indelible original songs keep one foot in the blues tradition and both eyes on the future. The pure joy Cain brings to his playing and singing is palpable, and draws fans even closer in.
Upon first discovering Cain in 1987, Guitar Player raved, "Cain is an impressive, top-notch guitarist. His full-bodied tone and surprisingly big voice packed a punch that had me reeling." The Washington Post declared, "Chris Cain is a hot-shot guitarist and a singer with the maturity of old blues masters like Bobby Bland and B.B. King." Guitar icon Robben Ford said, "Chris Cain is for real. He's a great blues player with an intensity that keeps you on the edge of your seat, wondering what he's going to do next. Plus he knows how to write a song you haven't heard before, full of humor and insight. If you like the blues you'll like Chris Cain. I am a stone fan."
With his Alligator Records debut album, Raisin' Cain, Chris Cain says he is at a new point in his career. "I'm playing and writing better than ever before. I can say more with less," he says, referring to his dynamic guitar playing and superb songwriting. "My songs are funky and danceable and my writing is now less personal diary than in the past. I want my songs to tell universal stories." Recorded in San Jose at producer and multi-instrumentalist Kid Andersen's Greaseland Studio, Raisin' Cain features twelve original Cain compositions. From the deeply autobiographical Born To Play to the humorous and rocking Hush Money to the late-night jazzy blues of I Don't Know Exactly What's Wrong With My Baby, Cain's songs deliver uncommon, surprising hooks and riffs coming in rapid-fire succession. On four songs, Cain shows off his stellar keyboard skills, and on the far-out instrumental Space Force, he proves himself a funky and jazzy ARP Soloist player. Along with Cain is his road-tested band, bassist Steve Evans and keyboardist/organist Greg Rahn, with Chris' touring drummer Sky Garcia and veteran D'mar Martin (Little Richard, Rick Estrin & The Nightcats) sharing the skins.
The award winning historic Sutter Creek Theatre is an intimate 215 seat former silent film theatre with superb sound. Voted Best Indie Theatre multiple times (KCRA A-List).