Bob Malone Band – The Christmas Collection Live
December 13 @ 8:00 pm

-

10:00 pm

$23 – $27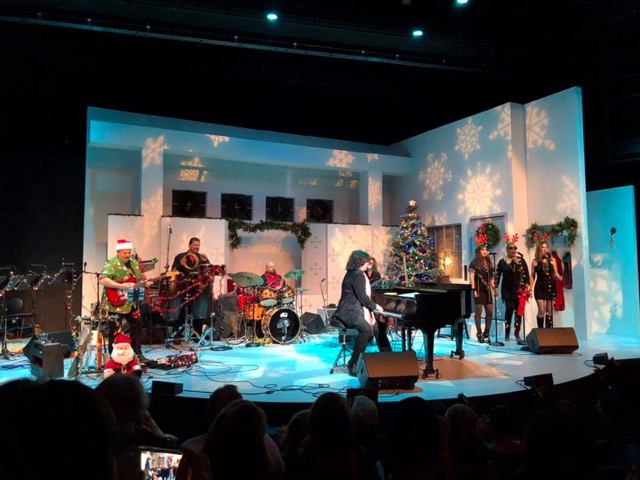 An evening with Bob Malone and his all-star band showcasing Bob's album "The Christmas Collection." A set of ten holiday classics and originals, including Bob's version of "You're a mean one, Mr. Grinch" featured in 2018's Illumination/Universal Pictures movie "The Grinch." Hold on to your seats for a second set featuring the best of Bob's one-of-a-kind blues-powered piano rock show.
You remember that line in Forrest Gump: "Life is like a box of chocolates. You never know what you're gonna get." Well, that's not entirely true. Because there's one thing for certain with a box of chocolates. Whichever one you pick is going to have chocolate. Sure, some have nuts, some have cream filling, some might even have a piece of fruit. But they've all got chocolate. Well, friends, Bob Malone's Christmas album, "The Christmas Collection", is a little bit like that box of chocolates. Some may be Rock, some may be Jazz, some might even be quasi-Classical, but it's all going to have Blues. And it's all gonna taste real good.
Bob Malone is known for his high-energy solo concerts, his recorded work with Ringo Starr, Bob Seger and many others, and as a long-standing member of John Fogerty's touring band. Malone is a keyboard wizard. Classically trained with a degree in Jazz, he's the guy all the Rock, Pop, and Folk artists want playing with them. To hear him is to love him.
Think of Bob Malone as a Blues Rock artist – but he doesn't confine himself to any particular sound or style. He's gonna use every damn shade of Blues that comes in that jumbo box of Crayolas…and then invent a few of his own besides. Everything he's ever done and everywhere he's ever lived gets rolled into his music which is a unique hybrid of Rock, Blues, Gospel, Folk, Jazz, Country and New Orleans R&B. That combination, along with the nature of his voice, often call to my mind Southern Rock groups like the Allman Brothers more than anything else (or sometimes I think of some kind of cross between Leon Russell and Elton John). But even that is a mile away from the truth as Bob is completely one of a kind.
A Keyboard Wizard." THE NEW YORKER
"Wondering why nobody writes songs like your old favorites – [the songs] that fueled the soundtrack of your youth? Bob Malone is the kind of guy that could make you weep." THE PALM BEACH POST
A true virtuoso and crowd-pleaser – he showed that while he is a fantastically technically accomplished player, he fully knows the meaning of showmanship as well." SHETLAND NEWS
"Keyboardist Bob Malone may have been the best musician on the stage outside of Mr. Fogerty himself." PITTSBURGH POST-GAZETTE
"'Sad On Christmas' is just the most magical sad piano ballad you've ever heard." STUBBY'S HOUSE OF CHRISTMAS
"I know you hate holiday music. But you will buy this record because it's Bob Malone. It's like if Randy Newman, Tom Waits, Duke Ellington, Mal Waldron, and Bob Dylan all merged into one and made a holiday record." KAREN ROZE REVIEWS